Image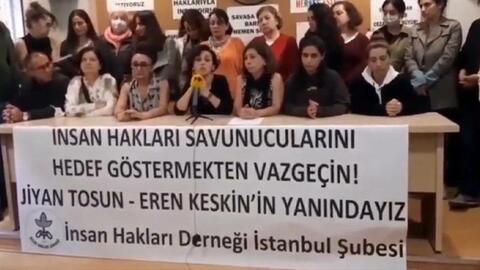 After fake news that she was the perpetrator of the Taksim bomb attack, Jiyan Tosun received many threatening phone calls. Her family members and another lawyer using a number registered under her name were also called. Tosun says only officials can access and leak such data.
A lawyer who received threats after being falsely accused of carrying out Sunday's (November 13) bomb attack in Taksim, İstanbul, said she suspected that her phone number was leaked by officials.
Shortly after the explosion that killed six people and wounded 81 others, a member of the far-right Victory (Zafer) Party, Adem Taşkaya, claimed in a tweet that lawyer Jiyan Tosun had carried out the attack in the name of the outlawed Kurdistan Workers' Party (PKK). He later deleted the tweet.
But with the fake news spreading on social media, Tosun said she received many death threats. Worried about her safety, she spent most of the night at a courthouse, where she had gone to file a complaint against those who spread the claims and threatened her.
Tosun explained what happened on that day at a press conference yesterday at the İstanbul branch of the Human Rights Association (İHD), which she is a member of. Her colleagues and human rights advocates were there to support her. 
Noting that not only her but her family members were threatened, Tosun expressed her suspicion that their phone numbers were leaked by the state.
Eren Keskin, co-chair of the İHD, said she uses a phone number registered under Tosun's name, and she also received threats by people calling her by Tosun's name.
"My office is in Beyoğlu. And İHD is also very near to where the explosion took place. Everyone was calling me. I was saying 'I am not at İHD today. I am at a meeting with my clients.' Somebody who heard me speaking has given a notice to the police. But I learned about this when I went to the police headquarters," Tosun said.
"There were two Syrian citizens with me. The person who calls the police says "One person is sitting with her and there are two Syrians." Upon this they came and they said that they would be taking the Syrian citizens for identification. And I said that I would accompany them during the identification process, giving them legal support. That is how I went to the police station.
"Half an hour later I was told that there was such a notice given for me. So I told the police about the situation. Then came the anti-terror police teams.
"I also told them that I was at a meeting with my clients and that I had an office in this neighborhood. The event took place at 16:40. I got off the metro at 16:30. They nevertheless said that they would be writing minutes and I was kept there until 7 p.m.
"At around 7:30 p.m. Eren Keskin sent me a message saying 'Jiyan such and such is being circulated'. I started to receive hundreds of phone calls all at the same time. I started to receive requests for following in my social media accounts and also insults and threats.
"My family and my friends are also victims. I am a survivor of a bombing and the police knows this very well. But I have been accused of being a bomber.
"I was in front of the Ankara railroad station in the October 10 explosion [2015]. My friends died a hundred meters away from me. I live with this panic since years being a sufferer of a suicide bomb explosion.
"Even my niece received threats"
"There is something else that horrified me. The telephone number of my 16-year-old niece was disclosed. The phone numbers of all my family members were circulated. Only official personnel can do this. They call and they threaten my niece. They say "You are bombers and you do not deserve to live."
Tosun also said that she called the İstanbul Bar Association after being targeted and that the chairperson of the bar did stand by her. She said this situation was 'embarrassing.'
Tosun's lawyer Jiyan Kaya said that the prosecutor did not take their statement and that the police and the prosecutor would be responsible if something bad happens to Tosun.
"They called me Jiyan"
Speaking after Tosun, Keskin said she also received threats ont he day of the explosion.
"I have received hundreds of such calls," said Keskin, questioning how can so many people find her phone number. She played a recording, where a man is heard accusing her of perpetrating the attack, using foul launguage.
"This is a deliberate state operation," she said, noting that the number she uses was registered under Tosun's name. "They were first calling me Jiyan. They they started calling me Eren."
She noted that she is working with Tosun and Kaya at the same office and said, "Adem Taşkaya is someone who is involved in many infamous crimes. Minister of Interior Süleyman Soylu and the President of Zafer Party Ümit Özdağ have argued publicly.
"They have some power within the state. Otherwise they will not be able to circulate such a lie so freely. We are receiving hundreds of threats since yesterday.
"They are calling using their own numbers. What kind of a state is this? Where are they? Do they show up only against us? We are calling İstanbul Governorship for duty. The Governor and also Minister Soylu should at once announce that the news was fake. I am also calling on that table of six [alliance of opposition parties] that defend democracy very much. They should also make announcements.
Keskin also said that what Taşkaya has done was an invitation to violence and that he should be detained and prosecuted.