Image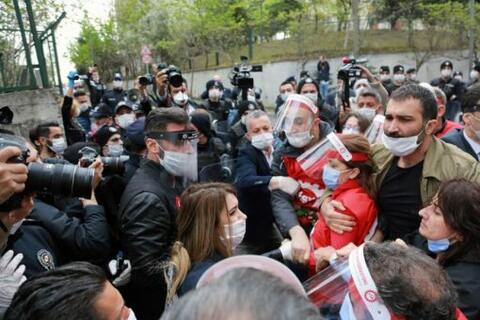 Attempting to march to Taksim Square in Beyoğlu, İstanbul to celebrate the May Day, Confederation of Progressive Trade Unions of Turkey (DİSK) Chair Arzu Çerkezoğlu and 25 others have been taken into custody by the police in front of DİSK Central Office in Şişli, İstanbul.
DİSK Secretary General Adnan Serdaroğlu, Energy Workers Union (Enerji-Sen) Chair Süleyman Keskin, Food Workers Union (Gıda İş) Seyit Aslan and Progressive Health Workers Union (Dev-Sağlık İş) Secretary General Erdoğan Demir are reportedly also among the detained.
The Confederation has announced the police intervention with the below tweet, attaching the following note: "They are attacking workers on May Day. Police attack against the executives of the DİSK and its affiliated unions in front of DİSK Central Office."
DİSK Chair Arzu Çerkezoğlu has also shared the following tweet: "We are in custody! Workers all across Turkey work and the public order is not disturbed, but May Day celebration disturbs it!"
Main opposition Republican People's Party (CHP) MP Ali Şeker was also in front of the DİSK office at the moment of intervention.
He has tweeted, "25 representatives from unions wanted to place their wreath in Taksim. Police intervened against it. The real danger has begun there during the period of quarantine. It emberasses Turkey."
Struggle Union wanted to march to Taksim
Struggle Union (Mücadele Birliği) Platform also attempted to march to Taksim from Osmanbey. Three members of the platform have been detained.
Marching with the banner "Long Live May Day," Gamze Nihal İyidoğan and Sena Şat have been detained in the police intervention on Halaskargazi Avenue. Önsöz TV reporter Ekin Su Aktaş has also been detained.
Union members detained in Kadıköy
Construction Workers (İnşaat-İş) and Umut-Sen Union members also marched from Söğütlüçeşme to Kadıköy Quay, opening the banners "Long Live May Day" and "Doesn't pandemic affect workers too?"
Chanting slogans and continuing their march, the group was intervened by the police in front of Eminönü Port. Eight people have been detained.