Image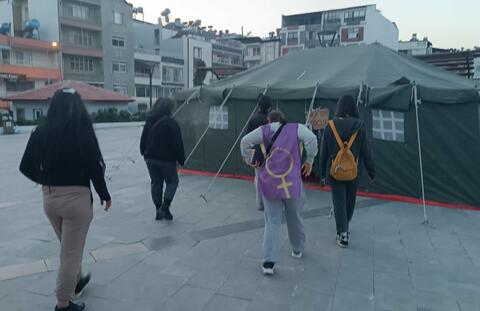 Activists from the Mor Dayanışma (Purple Solidarity) group visited the Güzelburç village in Hatay, one of the most heavily affected areas by the massive earthquakes on February 6.
After they started distributing aid materials they brought in a "purple truck," the special operations police prevented them, said one of the activists. Several volunteers, including a member of the Mor Dayanışma, were taken to a school and were not let out in what the activists called "informal detention."
"They threatened us with weapons"
Cemile Baklacı, a spokesperson for the group, told bianet that the police had threatened them with weapons.
"The police are blocking our friends, and they don't want them to come together with women especially. They seized women's phones by showing their weapons and threatening them. They also asked them to delete footage they had taken.
"We are there for solidarity, and we constantly face such obstacles. They don't want feminists to be here. They don't want us to come together with women. Whatever they do, they won't be able to prevent us, our solidarity will continue. Release our friends immediately."
Members of Mor Dayanışma had set up a "women's tent" days after the double earthquake and distributed hygiene kits and sanitary pads.
On February 6, two earthquakes with a magnitude of 7.7 and 7.6 struck the southern city of Maraş. The first quake in the Pazarcık district at 4.17 a.m. was followed by the second one in Elbistan about nine hours later.
The quakes affected 11 cities in Türkiye's south and southeast, as well as Syria's northern parts.
The official death toll from the quakes stands at over 44,000 and is expected to increase further, as over 160,000 buildings were destroyed or severely damaged, according to government figures.
Nearly two million people have been displaced due to the earthquakes.