Image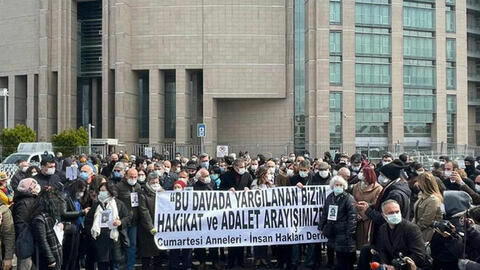 Put on trial over their 700th gathering at İstanbul's Galatasaray Square, Saturday Mothers/People had their fourth hearing at the İstanbul 21st Criminal Court of First Instance yesterday (March 23).
Before the hearing of the trial of 46 rights defenders, a press statement was held in front of the İstanbul Courthouse in Çağlayan.
A lawsuit was filed against 46 people who were detained during the police attack targeting the 700th gathering of Saturday Mothers/ People, who have been demanding justice for their enforced disappeared relatives at Galatasaray Square in İstanbul. Since the police intervention in the 700th week on August 25, 2018, they have been prevented from gathering there.
As part of this recent lawsuit, the defendants have been charged with "unarmed participation in unlawful demonstrations and marches and refusal to disperse despite warning" and they now face a possible sentence for violating the Law on Meetings and Demonstrations.
'I wanted to trust justice'
As reported by Mezopotamya Agency (MA), Hanife Yıldız, a Saturday Mother, spoke during the press statement and said:
"I met justice in 1995. I went to Kocaeli Courthouse to file a criminal complaint. I went to ask about my son while looking at the police in the face. But the police didn't come. They read out a written statement because they were busy. On that day, I understood that there was no justice.
"When I asked about my son in İzmir, they said, 'Your psychopath son played with us'. Justice is written in huge letters. But will there be justice? If there had been justice, I would not have come from İzmir and Kocaeli to here. I wanted to trust justice, but I went through these".
'We are the real complainants'
Speaking afterwards, Human Rights Association (İHD) Co-Chair Öztürk Türkdoğan also briefly said:
"We will not give up on the Galatasaray Square. We will sit there with an awareness of memory. They ban the square which has long been a site of memory. We are the real complainants. Where are the perpetrators? Why don't you penalize them? The ones who make us sit at the bar should be ashamed. We will keep struggling until our pursuit of justice bears fruit".
Amnesty International Turkey Campaigns Director Milena Buyum stressed that putting Saturday Mothers, who have been waging the longest peaceful struggle for justice, is unfair. She stressed that "not only is the freedom of assembly a Constitutional right, but lies and violence should also be put on trial, the current trial should end and everyone should be acquitted".
After the speech of Ümit Efe, the Human Rights Foundation of Turkey (TİHV-HRFT) İstanbul Executive Board member, Besna Tosun, one of the Saturday People, asked "whether the Constitution is still in force" and underlined that everyone is free to make statements and hold assemblies without getting permission, adding that this is a Constitutional right:
"We are at the Çağlayan Courthouse today because we exercised this right. Because the existing Constitution does not protect us and it does not bind the principal bodies of the state, primarily the judiciary. So, the Constitution has lost its character of being a Constitution and become an ordinary text. Turkey has been left without a Constitution. Constitutional rights have become exercisable as far as the government permits".
Referring to the trial of Saturday Mothers/People, Tosun said that the case itself "disregards the Constitution". Addressing "those who wanted to intimidate them through the judiciary", she said, "You cannot scare us, we will never stop searching for our loved ones disappeared in custody".
'My mother couldn't learn what happened'
At the hearing that began in the afternoon, the court heard the statements of defendants. Hasan Karakoç, whose elder brother Rıdvan Karakoç was disappeared in custody, took the floor at the hearing.
Hasan Karakoç began his defense by talking about why he was at Galatasaray Square. Recounting what happened before Rıdvan Karakoç was disappeared in custody, he recalled that they lost contact with him on February 15, 1995 after the police kept their house under surveillance, raided their house and workplace at times, telling them "to bring Rıdvan":
"Then the police blockade on our house was lifted. The police raids on our house ended. We applied to the relevant authorities to find my elder brother, but to no avail. All institutions of the state told us about my elder brother: 'We don't have him'.
"After insistent searches for 110 days, we, by mere coincidence, found his severely tortured deceased body in the Altınşehir Cemetery of the Nameless. [...] While we were searching for my elder brother everywhere, his deceased body passed through all official institutions, including the prosecutor's office, was kept waiting at the Forensic Medicine Institution for days.
"He was buried in the Altınşehir Cemetery of the Nameless as an 'unidentified person' without us being informed about it".
He underlined that no effective and fair investigation has been carried out into his disappearance for 27 years. "Our file has been waiting in the dusty shelves of the Beykoz Courthouse for 27 years", he said.
"My mother Asiye Karakoç is one of the first Saturday Mothers who took to the Galatasaray Square," recalled Hasan Karakoç, explaining that "in the face of the unlawfulness she faced, she could get no results and she could not learn what had happened to her son".
"My mother could not see that the ones who had done these to her son were put on trial and penalized. Because the state didn't see or hear my mother; it didn't regard her as a citizen. And she took to the Galatasaray Square with her son's picture".
"My mother breathed her last with my elder brother's name," he added.
Underlining that it is the duty of the state to ensure that the ones who made his elder brother disappear and kill him are given the penalty they deserve, he noted that after the sit-ins at Galatasaray Square began, the number of enforced disappearances swiftly dropped.
Referring to the police violence during their 700th gathering, Karakoç said that he was battered and detained with police violence and held in detention in rear handcuffs for over 8 hours, but no action was taken against the police officers who had done it while he was on trial.
"I didn't commit a crime," he said and demanded the acquittal of all defendants. However, the prosecutor of the hearing demanded that the requests for immediate acquittal of the defendants be rejected. The court board, abiding by this request, rejected the requests for acquittal.
The next hearing will be held on September 21 at 1.30 pm.