Image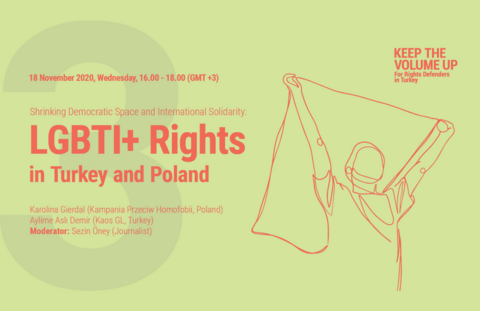 The panel "LGBTI+ Rights in Turkey and Poland", the third of the series "Shrinking Democratic Spaces and International Solidarity", will be held online on November 18, Wednesday at 16.00 (GMT+3).
Organized jointly by Hafıza Merkezi, Association for Monitoring Equal Rights and Netherlands Helsinki Committee, the panel will host Karolina Gierdal, Kampania Przeciw Homofobii (Campaign Against Homophobia) General Coordinator and Aylime Aslı Demir, Kaos GL Academic and Cultural Studies Coordinator. Panel will be moderated by journalist Sezin Öney.
In this panel, we'll be talking about the changing dynamics of LGBT+ activism in the context of rising populism and the challenges of Covid-19, and the old and new forms of struggle adopted by the movement in response. Some of the questions we want to give particular attention to in respect to both Turkey and Poland are;
The background developments that led to the current hostile political environment about LGBT+ rights,
The nature of the dominant ideology in the populist discourses of these countries with respect to LGBTI+ rights,
The convention has become the target of governments in both Poland and Turkey; why and how this happened? How was it resisted?
What are the specific challenges created by Covid-19 for LGBTI+ activism, and what are responses to it?
For registration, click here: https://forms.gle/gKhYfz3qSrJpMJuV6
Speakers
Karolina Gierdal is an attorney, member of the Bar Association in Warsaw and the Human Rights Section of the District Bar Council in Warsaw. Since 2017, she has been running a law firm providing legal assistance to people who are discriminated against. Since the same year, she has also been associated with the Campaign Against Homophobia (KPH): first as a member of the association's Legal Group, and since 2018, as its coordinator and member of the KPH team. As a member of KPH Legal Group, Gierdal has taken part in numerous strategic litigation cases before Poland's Supreme Court, Constitutional Tribunal and European Court of Human Rights. She also defends the defendants for infringement of the personal rights of the authors of the "Hate Atlas", a monitoring project in response to municipalities and regions of Poland that have declared themselves unwelcoming of an alleged "LGBT-free-zones".
Aylime Aslı Demir is trained in Public Management, Political Science and Women Studies. Since 2010, she's been working as editor and curator in various exhibitions and publications, dealing with the politics and aesthetics of bringing together a wide range of information and practices. Demir is chief editor of Kaos Q+, Turkey's first and only peer-reviewed queer studies journal, and is the running director of Ankara Queer Art Program Artists Residency. In Turkey and abroad, she's been involved in many organizations and collectives within the framework of various exhibitions, conferences, community studies and publications.