Image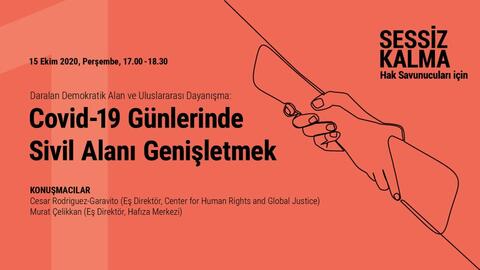 Hafıza Merkezi, Association for Monitoring Equal Rights and Netherlands Helsinki Committee kick-start a panel-series titled "Shrinking Democratic Space and International Solidarity".
Through these panels, we wish to discuss the challenges and potentials ahead of the human rights movement, in light of both the ongoing erosion in democratic/civic spaces and the disruptions of the Covid-19 pandemic. In each panel we will couple one human rights defender from Turkey with one from abroad.
In the first panel of the series, we hope to start with a hopeful perspective on how we can re-open spaces in times Covid-19. We also wish to put forth a conceptual and comparative understanding on concepts such as shrinking civic spaces, authoritarianism and populism. The title of this first panel is "Re-Opening Civic Spaces in Times of Covid-19".
We will welcome legal scholar, sociologist and human rights advocate César Rodríguez Garavito for this event. Murat Çelikkan, co-director of Hafiza Merkezi, will host the event as co-speaker.
Some of the specific issues and questions we want to focus are as follows;
How do concepts such as closing democratic/civic spaces relate to populism, authoritarianism, etc.
How has the situation evolved in recent years in terms of these processes?
What has been the impact of Covid-19 on top of all this?
During Covid times, what are the trends and practices in the global human rights movement that have the potential to push back against the populist tide?
How should we frame the debates about the future of human rights?
The panel will take place on October 15th at 17.00-18.30 (GMT+3) and will be livestreamed to registered participants. Please register from here.
English-Turkish simultaneous translation will be provided during the event.
About speakers
César Rodríguez Garavito's research focuses on the transformation of law and politics in the context of globalization. He is co-director of the Center for Human Rights and Global Justice in New York University School of Law. César is the founder of JustLabs and the Editor-in-Chief of OpenGlobalRights. He has been a visiting professor at New York University, Stanford University, Brown University, the University of Melbourne, the University of Pretoria (South Africa), the European University Institute, American University in Cairo and the Getulio Vargas Foundation (Brazil). He is a board member of WITNESS, the Business & Human Rights Resource Center, the Annual Review of Law and Social Science, and the Business and Human Rights Journal. César is obsessed with inter-disciplinary research, social innovation, systems thinking, and anything that can get human rights and social justice practitioners to respond more strategically and effectively to complex challenges such as technological disruption, the climate crisis and populist authoritarianism. He has conducted research and advocacy in various regions of the world and has published widely on human rights, environmental justice, globalization and social movements.
Murat Çelikkan has worked as a journalist for 35 years in various positions such as reporter, editor, columnist and chief executive editor. Çelikkan has been an active member of the Turkish Human Rights Movement. He was a founding member and has been on the boards of the Human Rights Association, Human Rights Foundation of Turkey, Citizens Assembly and Amnesty International Turkey. He has worked on projects related to the Kurdish problem and media ethics, freedom of speech and assembly, refugees, identity politics and peace. Çelikkan is a graduate of Middle East Technical University. He is currently the Co-Director of Truth Justice Memory Center in İstanbul. He is also the producer of two feature films and the documentary Buka Barane. He has received the Civil Rights Defender of the Year 2018 Award and the 2018 International Hrant Dink Award.