Image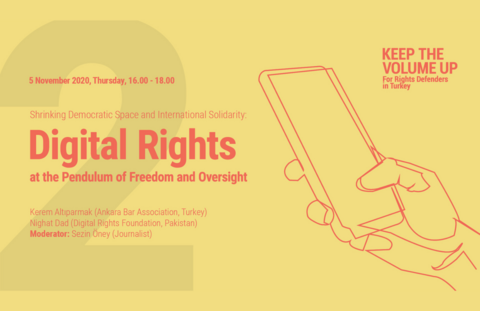 The panel "Digital Rights at the Pendulum of Freedom and Oversight", the second of the series "Shrinking Democratic Spaces and International Solidarity", will be held online on November 5, Thursday at 16.00 (GMT+3).
Organized jointly by Hafıza Merkezi, Association for Monitoring Equal Rights and Netherlands Helsinki Committee, the panel will host Pakistani human rights defender Nighat Dad and Kerem Altıparmak, president of the Ankara Bar Association Human Rights Center. Journalist Sezin Öney will be the moderator.
The panel series aims to discuss the challenges and potentials ahead of the human rights movement, in light of both the ongoing erosion in democratic/civic spaces and the disruptions of the Covid-19 pandemic. In each panel we couple one human rights defender from Turkey with one from a comparable country, focusing on a topic that we deem crucial for human rights work.
In this panel on digital rights, we'll be talking about the internet's state of freedom, security problems faced by human rights defenders, the transformation of digital space under Covid-19 conditions, from the comparative perspective of Turkey and Pakistan. We also find it important to discuss the significance and meaning of digital rights in the future of human rights work.
T panel will take place on November 5th at 16.00-18.00 (GMT + 3) and will be live-streamed. Please register from https://forms.gle/2mBxrVN38vxfmHSE8
You may use the links below to join the panel:
—
Speakers
Nighat Dad
Nighat Dad is the Executive Director of Digital Rights Foundation, Pakistan. She is an accomplished lawyer and a human rights activist. Nighat Dad is one of the pioneers who have been campaigning around access to open internet in Pakistan and globally. Since 2012 when she set up Digital Rights Foundation, she has been working to educate Pakistani internet users, particularly women to protect themselves from online harassment. Pakistani activist for female education and the youngest-ever Nobel Prize laureate Malala Yousafzai has also attended workshops of Dad, before being shot by the Taliban in October 2012. Dad led campaigns to protect online freedom of speech in Pakistan as well campaigns against legislation that gives the government broad powers of surveillance online, most notable one is the controversial Prevention of Electronic Crimes Bill 2015. She also contributed to the draft of Acid Prevention Law 2010 and the Domestic Violence Bill of Pakistan. In 2015, she was named in the TIME magazine's list of next generation leaders, for helping Pakistani women fight online harassment. She is also one of the 25 leading figures on the Information and Democracy Commission launched by Reporters Without Borders. On 6 May 2020, Facebook appointed her to its content oversight board.
Kerem Altıparmak
Kerem Altıparmak is a legal scholar and human rights defender whose research focus include European Court of Human Rights, freedom of expression, prohibition of torture, theories of rights and impunity. He has been working on internet freedom, providing training to lawyers, setting up law clinics and provision of support for digital activists and members of civil society organizations. Along with Mr. Akdeniz, he has made successful appeals to the Turkish Constitutional Court to get Youtube and Twitter bans lifted in 2014 and won another case in 2015 before the ECtHR after Turkey banned access to Youtube. Mr. Altıparmak is the Deputy Chair of Human Rights Association and the founder of Freedom of Expression Association. He is currently legal consultant to International Commission of Jurists and the Chair of Human Rights Centre at the Ankara Bar Association. He has won Turkish Publishers Association Award (2014), Halit Çelenk Legal Prize (2015), Columbia Global Freedom of Expression Award (2016) and Press Association of Turkey Press Freedom Prize (2016) with Professor Yaman Akdeniz. He was also the recipient of Franco-German Prize for Human Rights & the Rule of Law in 2017.