Image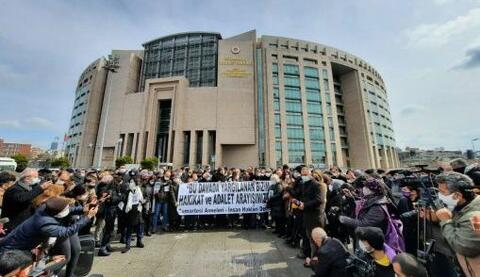 The "700th Week" lawsuit filed against Saturday Mothers/People starts at the İstanbul 21st Penal Court of First Instance today (March 25).
Saturday Mothers/People made a statement for the press in front of the İstanbul Courthouse in Çağlayan before the hearing. The group was surrounded by several police officers during the press statement.
Speaking first, Hanife Yıldız said, "This is not our site of gathering; we hope that we will meet in Galatasaray in the shortest time possible."
Human Rights Association (İHD) Co-Chair Öztürk Türkdoğan also said, "How could you put a protest that had been held in the same way for 700 weeks on trial? We are the ones who press charges."
The statement for the press was read out by Jiyan Tosun on behalf of the Saturday Mothers/People. The statement of rights defenders has stressed that they will not give up their struggle for rights at any costs.
A lawsuit was filed against 46 people who were detained during the police attack targeting the 700th gathering of Saturday Mothers/ People, who have been demanding justice for their enforced disappeared relatives at Galatasaray Square in İstanbul. Since the police intervention in the 700th week on August 25, 2018, they have been prevented from gathering there.
As part of this recent lawsuit, the defendants have been charged with "unarmed participation in unlawful demonstrations and marches and refusal to disperse despite warning" and they now face a possible sentence for violating the Law on Meetings and Demonstrations.
The only evidence cited in the indictment is the report written by the police on the day and place of the incident and a document of inquiry.
Lawsuit against 46 rights defenders
The following people now face a lawsuit over their participation in the 700th week: Koray Çağlayan, Koray Kesik, Leman Yurtsever, Levent Gökçek, Lezgin Özalp, Maside Ocak, Mehmet Günel, Muhammed Emin Ekinci, Ayça Çevik, Besna Koç, Cafer Balcı, Can Danyal Aktaş, Cihan Oral Gülünay, Cüneyt Yılmaz, Deniz Koç, Ercan Süslü, Ezgi Çevik, Faruk Eren, Fecri Çalboğa, Ferhat Ergen, Gamze Elvan, Hakan Koç, Hasan Akbaba, Hasan Karakoç, Jiyan Tosun, Kenan Yıldızerler, Murat Akbaş, Murat Koptaş, Onur Yanardağ, Osman Akın, Özer Oymak, Özge Elvan, Ramazan Bayram, Rüşa Sabur, Sadettin Köse, Adil Can Ocak, Ahmet Karaca, Ahmet Süleyman Benli, Ali Ocak, Ali Yiğit Karaca, Atakan Taşbilek, Ataman Doğa Kıroğlu, Saime Sebla Arcan, Sinan Arslan, Ulaş Bedri Çelik, Volkan Uyar.
It is also decided that the case files of the MPs who were there to attend the demonstration be separated from others as they have legislative immunity.